Marianne Nicolson's "Rivers Monument" (DESIGN & BUILD)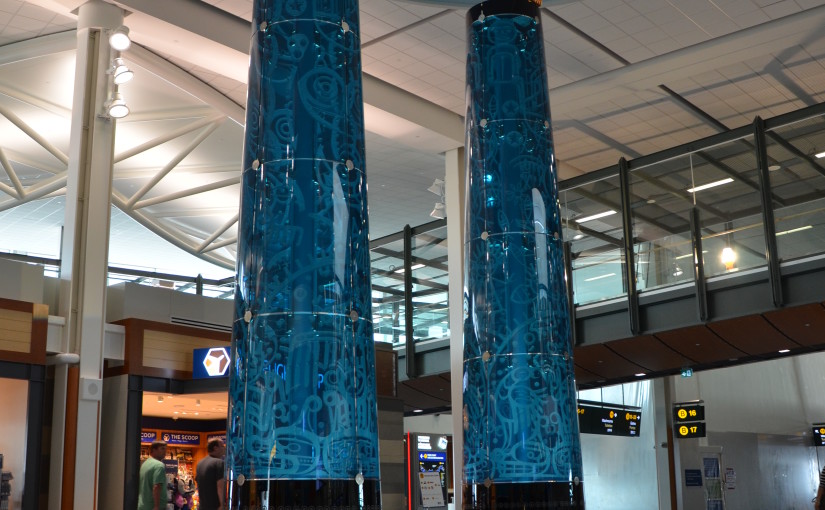 In early 2012, I was approached by artist, Marianne Nicolson about creating a pair of vertical glass columns representing the Columbia and Fraser rivers. The glass would include carved designs specific to the indigenous history of each waterway. These sculptures would be 22' high and topped with a 4' wood carving. The columns would be cylindrical and taper from a base diameter of five feet, to a top diameter of three foot six inches. The site architects, in consultation with Marianne, would design a pedestal/water-feature base, and suspended domed ceiling to frame the works.
To represent the waterways, the glass would have a coloured tint, and a smooth curved surface. The sculptures would be semi-transparent and require an innocuous support structure to help maintain the illusion of water. The imagery would require a discreet lighting system to illuminate the story in a way that made it appear to come from 'within the water'. The sculptures would also be engineered to meet seismic and building standards for installation into a public space.

My job was to design the structures to meet the client requirements, map out the build process, organize the component material elements, develop a method for the artist to create her artwork to scale in a three-dimensional form and then extrapolate to full size vector drawings, carve the glass, and project manage the on-time build and delivery of the project. Over the next two years, in consultation with the artist, fabricators, hardware suppliers, YVR site planning/architect  teams, art consultants, lighting specialists, glass engineers, steel engineers, and the on site construction contractor, I designed the structures, developed working drawings, and then coordinated production of the separate elements.
The uniqueness of this art-piece presented many challenges, not the least of which was how to support a 3000 lb structure and keep the focus away from the mechanics of it. I reworked several versions of the design, each time stripping away more of the visible support to create the most minimalist system that would keep the focus on the artwork. The final result uses bespoke hand-fabricated joining hardware, clear 'low-iron', tempered/laminated glass internal supports attached to a steel core, which was paint-matched to blend in behind the glass even when internally lit. The lighting array would also require future maintenance so I designed a discreet 4 drawer service access system at the base. Every aspect and design change required architect approval and engineer certification. Even with meticulous planning, countless surprise details naturally came up, as they do with a unique project such as this, but with the whole team of professionals doing what they do best, the project was successfully completed on schedule and within budget.
Additionally, I managed the separate contract with YVR (Vancouver International Airport) to coordinate the onsite installation and assembly into their new Domestic Departures Terminal.
Below are a few process shots taken throughout the project. For a more detailed chronology, here is a link to a "build" post outlining the whole process (with pictures): click here